1 event,
" The attitude of being ready to work even in the face of challenges and despite odds is what will make all the difference in your life ." Covid 19 was a big challenge for everyone of us . Every moment filled with the fear of life or death we left our work studies and […]
1 event,
ආරාධනාවයි! මහනුවර මහාමායා බාලිකා විද්‍යාලයීය සිංහල කථික හා විවාද සංසදය විසින් ප්‍රථම වරට ඉදිරිපත් කරන සංප්‍රමායා 2021 නිවාසාන්තර විවාද තරගාවලිය වාග් අසිපත් අවිය කරගනිමින් සිහින කිරුළ වෙනුවෙන් සටන් වදින නිවාස හතරක් කණ්ඩායම් අටක් එකම ධජයක් යටතේ තරග වදින සංග්‍රාම හෝරාව ඔබ සැමට ගෞරවයෙන් යුතුව ඇරයුම් කරමු. වැඩසටහන් සබැඳිය Join Zoom Meeting https://chords-org-lk.zoom.us/j/92439149569?pwd=TnY1elNQZDcrN1pmTnk1ZG9HK2ozZz09 Meeting ID:924 3914 […]
1 event,
මහාමායා බාලිකා විද්‍යාලයේ ව්‍යාපාර ඒකකය විසින් සංවිධානය කරනු ලබන 'BUILD UP YOUR START UP' වැඩසටහන ශ්‍රී ජයවර්ධනපුර විශ්ව විද්‍යාලයේ ජ්‍යෙෂ්ඨ කථිකාචාර්යවරයකු වන අමින්ද ලක්මාල් මහතාගේ ප්‍රධානත්වයෙන් හෙට දිනයේ පැවැත්වීමට නියමිත වේ. එහිදී ඔබට ව්‍යාපාරයක් ඇරඹීමට හා පවත්වාගෙන යා යුතු ආකාරය පිළිබඳ අත්වැලක් ලබාගත හැක. ඔබත් ව්‍යාපාරයක් ඇරඹීමට අපේක්ෂාවෙන් හෝ පවත්වාගෙන යන ව්‍යාපාරය පිළිබඳව ගැටලු ඇති […]
1 event,
While the covid epidemic is sweeping the globe, our school's western cadet band is ready to give our sisters a different experience under the new normal conditions. You are invited to join us through this link at 6pm tomorrow. # WCB https://chords-org-lk.zoom.us/j/93358993916?pwd=alpiUjEwQy9mWUIydmFlREU2NmE0dz09
2 events,
Based on Grade 6 Tamil Language Text book will be held 📌On - 10th September 📌At - 4.00 pm 📌Via- Zoom 🔖Conduct by Members of Tamil Society 🔗 Join with us for learn about Tamil grammar using the below link (link) ✨All the Grade 6 students of Mahamaya Girls' College are invited✨ 📝Organized by- Tamil […]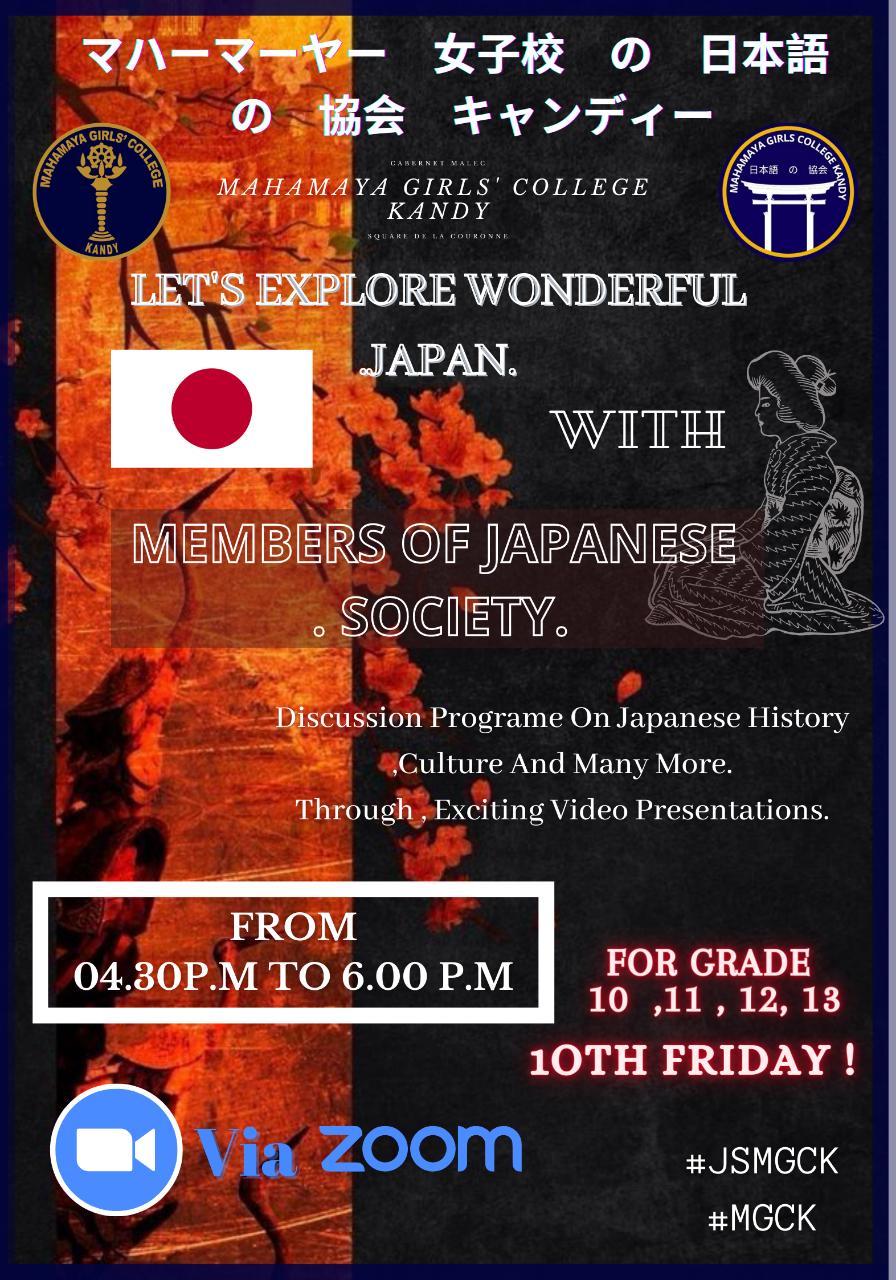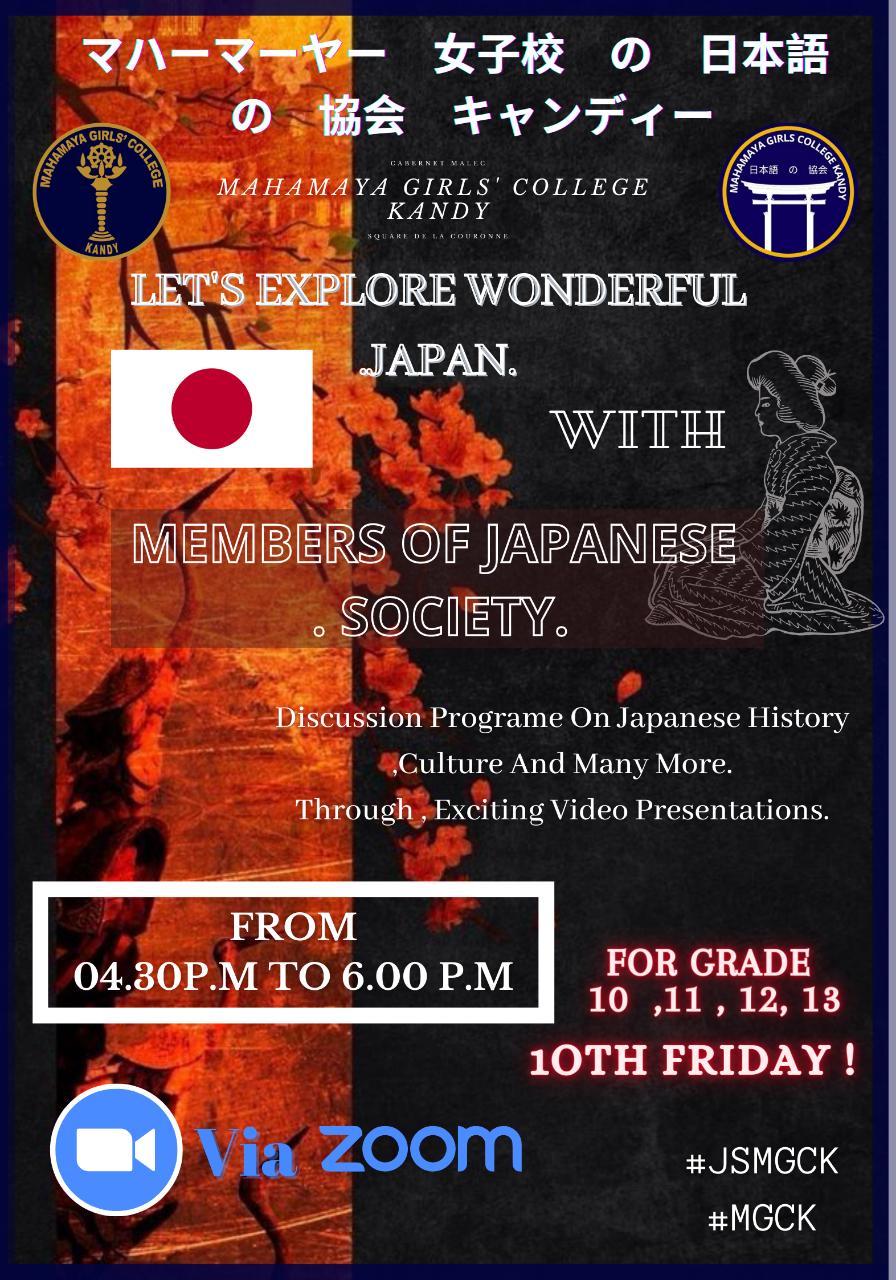 The purpose of this event, to be conducted by the Japanese Society of Mahamaya Girls' college, Kandy is to enhance the knowledge on Japan and Japanese culture.
1 event,
Here's your chance to explore the mysteries beyond the Earth! "Journey beyond the sky" ; Lecturing series", will be started from this week. On 17th September,7pm onwards the event will be introduced to all of you . Grade 3,4 & 5 little sisters, this great opportunity is for you. Hope you'll join with us and […]